Anand Ahuja Age, Net Worth, Family, Wife, Bio and more
Anand Ahuja, the owner of a popular clothing brand Bhane, is well known for being the spouse of Bollywood diva Sonam Kapoor.
He was born on July 29, 1983, and resided in Jor Bagh locality, Delhi. Mr. Ahuja is also running a multi-brand sneaker store in India named VegNonVeg.
He is a successful entrepreneur but came into the spotlight after marrying Bollywood Fashionista Sonam Kapoor.
Education/Career
Anand Ahuja has completed his schooling from American Embassy School which was located in New Delhi. He got his MBA degree from the Wharton School of the University of Pennsylvania, Philadelphia, USA.
After taking his MBA degree, he started working in a clothing company that was owned by his uncle. He worked with his uncle until got full knowledge of the retail business.
He also did his internship at Amazon.com in the USA as a Product Manager in 2011. Because of his love for shoes and attire made him construct India's first shoe store VegNonVeg. He also established the largest export company in India with $450 million turnovers.
Anand Ahuja Wife/Girlfriend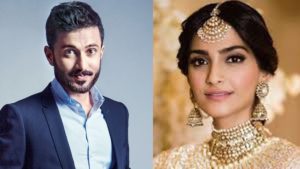 He tied the knot with Sonam Kapoor on May 8, 2018, in Bandra, Mumbai.
As belonged to the Hindu Khatri Punjabi family, his marriage was organized in the traditional Sikh style.
The family members and friends of Sonam Kapoor enjoyed their marriage a lot.
Sonam Kapoor and Deepika Padukone are his favorite actress. Mr. Ahuja also very close to Pernia Qureshi, Sonam's best friend, and stylist. Sonam also likes "Bhane" his clothing brand outfits.
In 2014, he proposed to Sonam Kapoor for marriage which was accepted by Sonam a few months after.
They both were very open about their relationship in front of the media and many times they were spotted together at public places or even at family events.
But there is no doubt that they look cool together.
Physical Appearance
Anand Ahuja is of sportsman spirit and love to play and watch Basketball. So, being a sports lover he is a handsome guy of 5'9″ tall and 65 Kg of weight. His dark brown eyes, beard, and black hair make him more elegant and attractive.
Family
He belongs to a Hindu-Khatri Punjabi family. His father's name is Sunil Ahuja who is a successful businessman. His mother Beena Ahuja is a housewife.
Anant Ahuja and Amit Ahuja are his two younger brothers and his sister's name is Priyadarshini. Harsh Ahuja, an owner of the Sahi Exports, is his grandfather. Mr. Anand is now served as the MD of the Sahi Exports.
Anand Ahuja's Net Worth
He is born in a rich Business class family, who has great interests in fashion and apparel. Because of his business spirit Mr. Ahuja owns a property worth 3000 million.
He is the owner of "Bhane", a famous clothing brand with a turnover of $450 million.
Which is now considered among the largest export company in India. He also served his family-owned business house Shahi Exports Pvt Ltd as MD.
Anand Ahuja's Interesting facts
Q/A: Which is the favorite song of Anand Ahuja?
Ans: Hypnotize By The Notorious B.I.G
Q/A: Which is his Favourite Food?
Ans: Acai Bowl
Q/A: Which is his favorite actor?
Ans: Hrithik Roshan, Will Smith, and Dwayne Johnson
Q/A: Which is his favorite actress?
Ans: Sonam Kapoor and Deepika Padukone
Q/A: Which is the Favourite Sport of Anand Ahuja?
Ans: Basketball and Lawn Tennis
Q/A: Which are his favorite Destinations?
Ans: New York and Europe
What do you think about Anand Ahuja's net worth 2023, Age, Wife and Children? Comment below.