Akash Ambani Age, Wife, Marriage, Wiki, Net worth And Wedding date
Akash Ambani is a son of Mukesh Ambani, the richest Indian and the chairman of Reliance Industries Limited. 
He is an Indian businessman, born on 23 October 1991 into the Ambani family.
Ambani's family is a well known and richest family in India. Their net worth is approximately 50 billion US dollars as of March 2019. 
"As per the interview of Akash, he has no idea about his status and family wealth until he was asked in school to write an essay on Reliance in XI standard for a business and management course"
Following the footsteps of his father, Akash has taken leadership roles at various firms under the group.
moreover, along with his twin sister Isha, he was inducted into the board of directors of Reliance Jio and Reliance Retail in 2014. Junior Ambani is a very hard worker & the most humble person, it is quite amazing. 

Family & Personal Life
Akash Ambani is the eldest son of Indian Richest Entrepreneur Mr. Mukesh Ambani and Nita Ambani.
He was born with a twin sister, Isha Ambani in a Hindu family. He also has a younger brother named Anant Ambani. 
Late Shri Dhirubhai Ambani (grandfather), was an Indian business tycoon and founded Reliance Industries in 1966.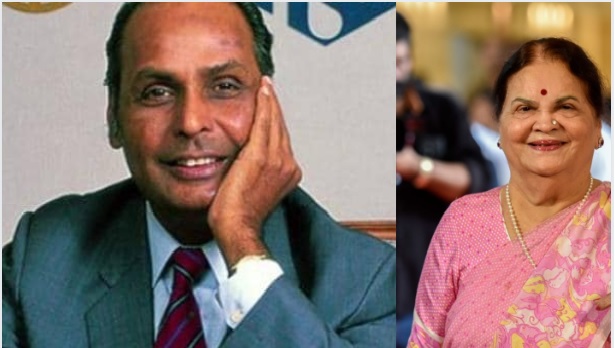 His father is the chairman and managing director in Reliance Industries. As a result, today, Reliance is considered as the biggest company in India because of the dedication and hard work of Mukesh Ambani.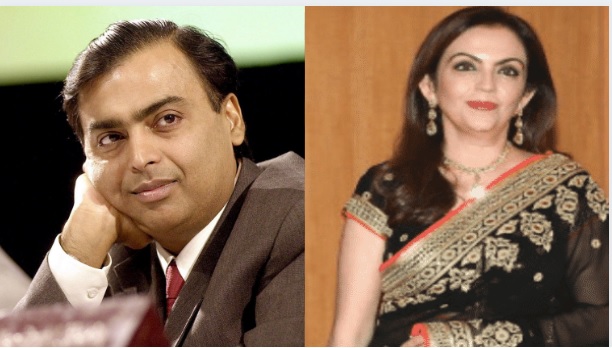 Her mother Nita Ambani is the founder of the NGO Reliance Industries Limited. Where she gives help to the needy people in health, education, etc.
Nita Ambani is a trained Bharatnatyam dancer. She also presents her Bharatnatyam dance in Isha Ambani's marriage.
Anant Ambani (brother) is well known for losing his weight of 108 kilos within 18 months. He followed strict diet and training in 2016.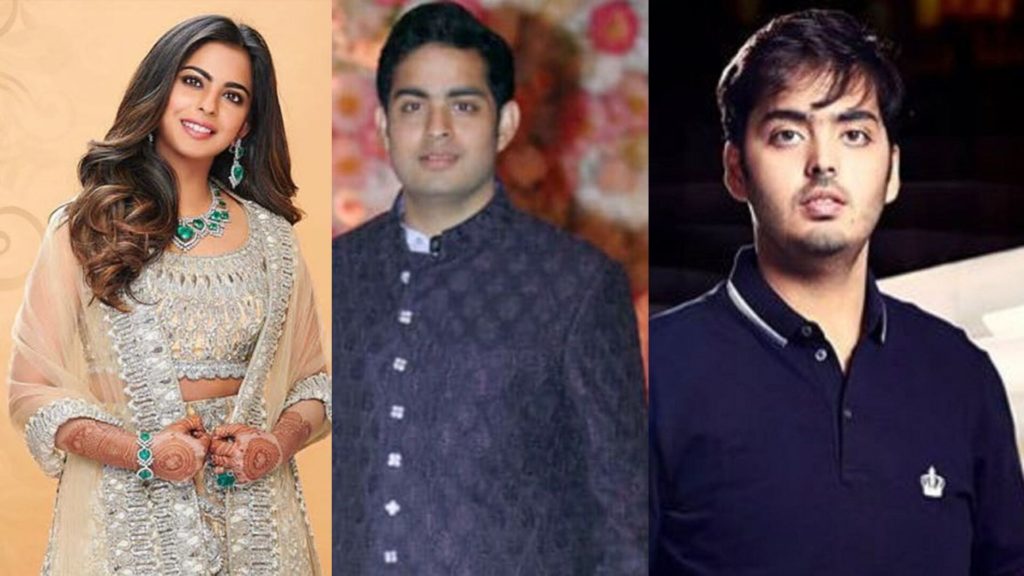 Isha Ambani (sister) married to Anand Piramal, chairman of the Piramal Group on 12 Deb 2018.
Education
Mr. Junior Ambani completed his schooling from Campion School and Dhirubhai Ambani international school, Mumbai. This school also belongs to Ambani's.
After that he has enrolled in  Brown University in Economics, Rhode Island, United states further studies. 
As soon as he graduated from Brown University, he started taking interest in his father's business.
As a result, currently works as chief of strategy, Reliance Jio Infocomm.

Physical Appearance
He was fat and stout in his teenage. Later, he worked out and turned himself from FAT to FIT.
Before getting married, Akash was regarded as one of the most eligible bachelors in India.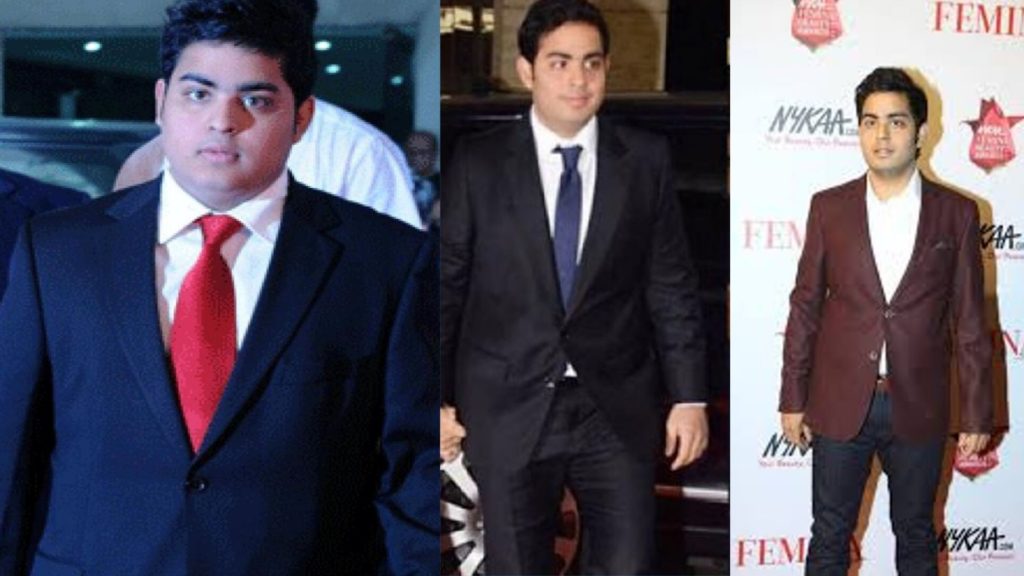 Height: 5′ 10″ (173 cm)
Weight: 70 Kg
Biceps: 12 inches
Shoe Size: 7(US)
Hair & Eye Color: Black
Body Measurements: chest-40,waist-35, hips-36      
Career
After got a degree in Economics from Brown University, he interned at their family business.
Presently, he works in Reliance Jio Infocomm as Chief of strategy. Akash Ambani started working just after his graduation and gave birth to Jio. 
Because of his smartness in business, he has successfully captured a big part of the telecom industry within a few years.
He gave hard competition to its competitors by providing free service for 1.5 years. While launching Jio internet, he came on the stage first time with his sister Isha Ambani.
They also launched the Jio Phone that supports 4G only for 1500, which is refundable. 
Presently, junior Ambani is working on the Jio fiber project. He wanted to keep the internet very fast through Jio fiber. This project is in its starting phase as of 2019.
Apart from above, Akash Ambani co-owns the Mumbai  Indian Premier League 2019 auction with his mother Nita Ambani.
He was actively involved in building the network architecture and developing the various application and service like Jio tv, Jio Cinema, and Jio chat. 

Interest And Lifestyle
He has a great interest in football and cricket. His favorite football club is Arsenal. Mr. Akash also interests in collecting sports souvenirs like jerseys and bat. He loves to eat Gud-papri.
Akash lives in a 27 story house Antilia that worth more than $1 billion. According to reports, the house has a garage for 165 cars and a helipad on the rooftop. Moreover, It also has a cinema and a staff of 600 people. Antilia has an independent health club.
Mr. Akash has great car collection like BMW, Bentley ,Rolls Royce,Range Rover, and Mercedes. 
Relationship
Akash falls in love with Shloka Mehta during his high school time. He got engaged on 24 March 2018 to Shloka Mehta, daughter of Indian richest diamantaire-Russell Maheta. On 9th March 2019, they got married at the Jio World Center Bandra Kurla complex in Mumbai.
https://www.youtube.com/watch?v=hCnQs_VaSx8

Frequently Asked Questions
Who is Akash Ambani?
Surname "Ambani" speaks a lot. Akash Ambani is an elder son of Mukesh Ambani, richest businessman of India and Nita Ambani.
is Akash Ambani married?
Yes, Akash Ambani is married with his school time girlfriend Shloka Mehta, daughter of the richest Rosy Diamonds owner Russell Mehta on 09 March 2019.

Where did Akash Ambani get married?
Akash Ambani got married to Shloka Mehta at Jio World Centre (JWC), Bandra Kurla Complex, Bandra East, Mumbai, Maharashtra, India.

Who is Shloka Akash Ambani?
Shloka Akash Ambani is a wife of Akash Ambani and daughter of Russell Mehta, India's richest diamantaire.
When was Akash Mukesh Ambani born?
Akash Ambani was born with a twin sister on 23 October 1991 in Mumbai.
Akash and Shloka Mehta love story
 Akash Ambani fell in love with Shloka Mehta during his high school. After a long relationship, the couple decided to get engaged in 2018. On 09 March 2019, they got married.
Akash and Katrina Kaif Affair
After break up with Ranbir Kapoor (actor), Katrina kaif fell in love with Akash Ambani son of Mukesh Ambani. They spotted together in events, Diwali party that was hosted by Amitabh Bachchan.