What Happened to Luke Sandoe? Know About His Cause of Death
What Happened to Luke Sandoe at the age of 32?
| | |
| --- | --- |
| Real Name | Luke Sandoe |
| Birth Place | Bournemouth, England |
| Birth Date | 3 August 1988 |
| Age at Death Time | 32 Years Old |
| Death Date | 7 May 2020 |
| Profession | Physique Coach, IFBB Pro Bodybuilder, Entrepreneur |
Who is Luke Sandoe? Biography
Luke Sandoe born on 3 August 1988, was an English bodybuilder, personal trainer, weight lifter, and entrepreneur. Recently, he has participated in the
COVID-19-friendly Arnold Classic competition in Columbus, Ohio, where he had never seen better.
Maybe he had done some serious tasks to put his game at another level. Sadly, famous British bodybuilder, Luke Sandoe passed away on May 7, 2020.
Luke Sandoe was widely recognized among the best professional participants of the IFBB (International Federation of BodyBuilding & Fitness).
He is also known for his best bodybuilding and coaching. Luke Sandoe also owned his own studio, "Elite Body & Fitness."
What Happened to Luke Sandoe? Know about his cause of death.
Now the question is, how did body builder Luke Sandoe die?
According to Luke Sandoe's fans, he was died due to steroid abuse.
As we all know that the life of bodybuilders runs with health risks. Bodybuilders shaped their muscles, and body organs with heavy
exercises. But there is another phase also that fans don't want to talk i.e effect of steroid abuse.
This is the reason that most of his fans thought that excessive consumption of steroid was the possible cause of Luke Sandoe's sudden death as steroid leads to many health complications.
What Luke Sandoe Friend, Ben Chow said about Luke Sandoe's sudden death?
Ben Chow is the person who knows about Luke Sandoe's struggle because they had in touch with each other for a long time.
Sandoe's friend Ben Chow revealed through his Instagram video that Luke Sandoe's sudden death was his own choice. He added that there is a number of speculations regarding luke's death.
Chow explained as:
"What happened with Luke was his choice, He decided that it was his only option and we'll never comprehend what he was struggling with."
Chow said that it is not about Luke Sandoe's health, or drug issue that lead to his death but his own decision. Chow said,
"I will say that in my time knowing Luke, he has battled with demons which date back from long before bodybuilding and long before I met him".
Chow added," I think that Luke's demons were bigger than ours."
Luke Sandoe Cause of death revealed by his family
On Luke Sandoe's 32nd birthday, his family revealed the actual cause of Luke's death through his official Instagram page as: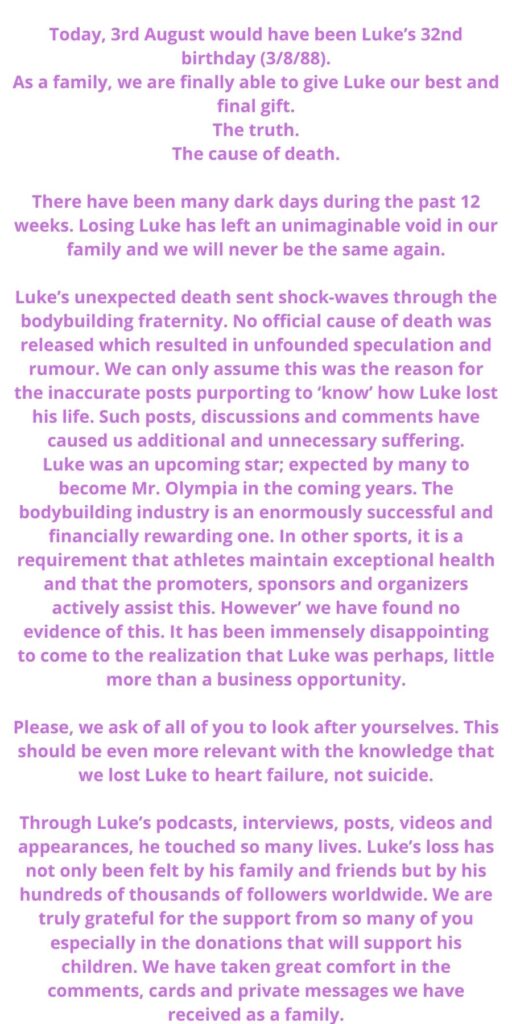 Many fans believed that the cause of Luke Sandoe's death is SUICIDE as he suffered from depression.
But this is not true according to his family. His family said that his death caused them unnecessary suffering. Also, his family revealed that the cause of Luke Sandoe's death is HEART FAILURE NOT SUICIDE.
Luke Sandoe's family added, "The bodybuilding industry is an enormously successful and financially rewarding one.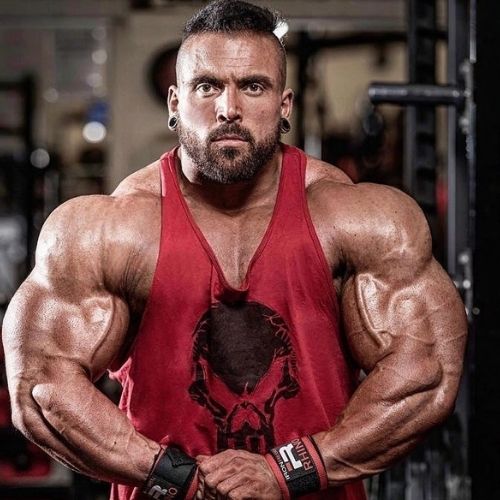 In other sports, it is a requirement that athletes maintain exceptional health and that the promoters, sponsors, and organizers actively assist this.
However' we have found no evidence of this. It has been immensely disappointing to come to the realization that Luke was perhaps, little more than a business opportunity."
The above comments by his family directly targeted his sponsors as well as other reputed people in the industry.
Luke Sandoe Height & Body Size
Luke had a gigantic and muscular body. To maintain this body structure he scheduled many compound exercises. Luke Sandoe was mainly
concentrated on heavy workout and exercises such as pull over, pack deck, and many more.
Luke has offenly appeared in health magazine as he had a fantastic physique. Luke Sandoe's height was 5 feet 8 inches and weighs around 115 kg.
Here is Luke Sandoe's body size and height details: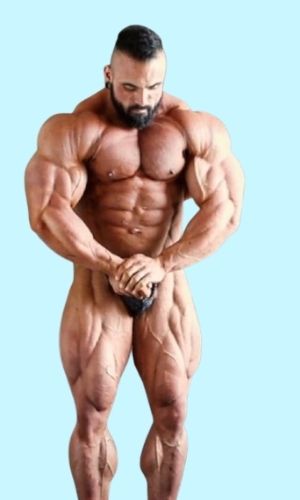 | | |
| --- | --- |
| Height | 5′ 8″ |
| Weight | 115 kg or 253 lbs |
| Body Type | muscular |
| Bicep Size | 22″ (inches) |
| Thighs | 33″ (inches) |
Luke Sandoe's- Awards and Acheivments
British Finals 2012 Inters O90 kg – 2nd Place
UKBFF Kent Classic Championships 2015 – 2nd place
South Coast – Mens O100kg – 1st Place
Welsh Grand Prix – Mens O100kg – 1st Place
Arnold Classic Australia 2018 – 6th place
South Coast 2012 Juniors – 1st Place
Arnold Classic 2017 – 8th place
Source of information
Instagram, barbend.com/pro-bodybuilder-luke-sandoe-passes-away/, greatestphysiques.com
What Happened to Luke Sandoe? Know about his cause of death