Rick Ross Weight Loss-Transformation & Secrets of losing 90 pounds
Rapper Rick Ross shed 90 pounds of weight with learning balance. Ross is famous for the tune Blowin' Money Fast and made 30 million-plus views on YouTube. Moreover, Ross got the attention of his 90-pound weight loss journey.
As the owner of 25 Wingstop franchises, Rick Ross still loves to eat good food. But after made balance with exercise and a healthy diet, he turned himself FAT to FIT. After consulting his doctor, this rapper changed his diet and save himself by losing nearly 90 lbs. Ross followed a healthier lifestyle as well as exercise. Know more about Rick Ross Weight Loss journey as shown below.

Rick has followed strict weight loss diet plans as well as regular exercise.

Rick Ross Weight Loss Secrets
The 43 years old Rick Ross initially scaled at 350 pounds. After adopting a healthier lifestyle, he has dropped down around 220 pounds in 2014. Instead of going for a fad diet, he chose a lasting route that he does four days a week.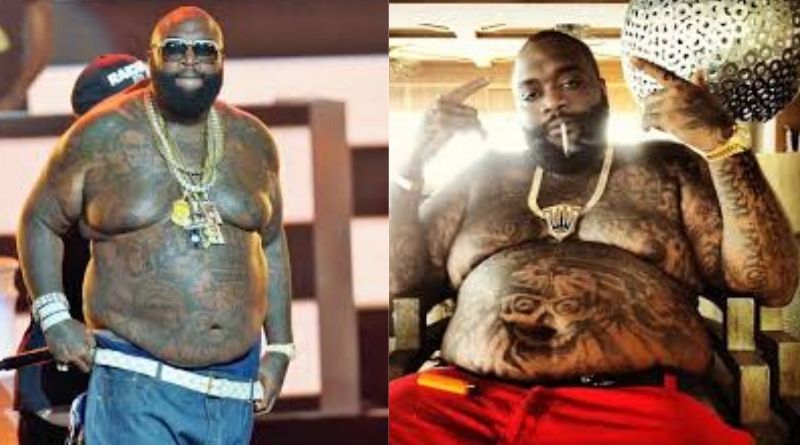 When he came to the recent award ceremonies as a different man, people started questioning "how much weight has Rick Ross loss". Even his fans difficult to believe that this rapper used to be proud of his big size.

Rick Ross still plays at concerts as well as records music. This rapper admitted that his health is his first priority. After his seizures, he realized that it was time to give attention to his health.

Now, Rick Ross is happy with his body. After noticing his overweight, he made his willpower so strong to change his whole lifestyle.
Rick Ross Reveals The Secret To His Weight Loss -Video
Rick Ross Weight Loss Diet
Rick Ross gave some general advice about losing weight that leads to a healthy lifestyle.

1. Avoid Soda– Rick Ross believed that soda is not good for our health. So, you should strictly avoid drinking soda. Bot in case, you are not able to avoid it completely, choose diet soda than the regular one.

2. No Heavy Meals at Night– Rick Ross advised his fans not to eat a heavy meal at night. Even schedule your dinner in earlier hours. This rapper added that if you eat it close to your sleeping hours, you will get more extra calories. Opposite to this, if you took at during the day time, you will be able to burn its calories by exercise.

Rick Ross said that because of his tight schedule, he used to have its huge meals at 2 am. But now he finds time to eat during the day.

3. Drink Plenty of Water– Drinking plenty of water is the main part of Rick Ross weight loss diet. He advised everyone to drink plenty of water to lose weight. Plain mineral water washes out all the toxins from your body as well as keeps you refreshed throughout the day.

4. Treat Yourself with Something Nice– Rick Ross said that when he did something extraordinary, he went to his favorite restaurants and ordered delicious snacks for himself. Of course, you have to avoid this, but it is always an energy boost for him.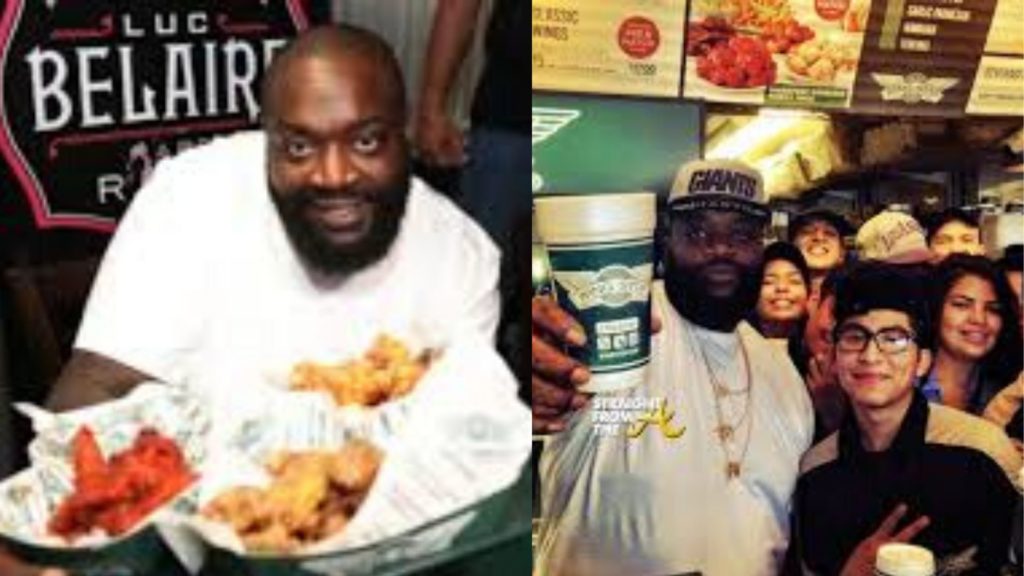 5. Follow a Strict Plan– Rick followed a strict plan of exercises that put your life in order as well as followed the Crossfit program introduced by Reebok. This plan consisting of 20 minutes of exercise for all muscles. Apart from this, this rapper goes for jog four times per week.

6. Make Your companion– According to Rick Ross, you should motivate your friends and family members to work out with you. He has engaged 20 people to do the workout with him. And they all agreed to take this opportunity to him. He discloses its reason as exercising with more people makes time pass quickly.

7. Watch Your Eating Habits– This rapper pointed out that watch your regular food consumption as well as eating habits. Rick gave up some kinds of food completely like bread and rice. He started eating more fruits and avoid alcohol.

8. No Need to Stay Hungry– Giving up every food is not good. Rick Ross sometimes visit his favorite restaurant and eating lemon pepper wings. He admitted that it much less often as compared to before.
Rick Ross Weight Loss Surgery
Did Rick Ross Undergo gastric Bypass?
Now, we are hearing that Ross underwent gastric bypass surgery! I am sure you all heard about gastric bypass surgery.

An insider spoke to BMS said that Rick underwent the surgery a little more than a month ago. They added that Rick Ross got "LAP-BAND" surgery which reduces the food's amount he can take. In addition to that Ross adopted a new diet as well as a strict exercise to get TIP TOP SHAPE. They said that he has already lost 20 pounds and we also spotted him at the gym.

We are not clear about his weight loss surgery, BUT Rick has been adopting lots of changes in his lifestyle. We already discussed his healthy habits above. This rapper has talked often about his strict workout plan like Reebok's CrossFit program.

He said "Its a different type of workout plan" on The Rickey Smiley Morning Show in September 2018. He also added that "I feel good" with Reebok's CrossFit program.
Rick Ross told 93.9 WKYS FM earlier this year-
"It was just time for me to tighten up a little bit, you know what I'm saying. As far as, you know, me working out…I have no destination, no specific weight,"

"And also, you know, I've been doing this CrossFit thing, you know, shout-out to Reebok, we had started doing that, you know, last year, some time and you know, it's just catching up a little bit."
Summary
According to Rick Ross weight loss plan, self-care is the most essential thing. Get inspired by your favorite people to drop extra weight. If they do it with a tight schedule then for you it is an easy task. Rick advises everyone not to make weight loss a job. Once you hold a plan, everything will come naturally.
Information Collected
https://www.capitalxtra.com/artists/rick-ross/lists/rick-ross-weight-loss/9/
https://blackdoctor.org/505974/rick-ross-loses-75-pounds/
https://www.legit.ng/1138419-rapper-rick-ross-weight-loss-secret.html